Click (or tap) on an area to check the detailed description to the appropriate section.
Click here for a map of the venue.

Laramidia, a continent from the mists of prehistory
that existed during the Late Cretaceous Period.
Today, this land makes up the western half of North America.
During this period, you would have witnessed the pinnacle
of dinosaur evolution, from Triceratops to Tyrannosaurus.
Sony present DinoScience The Dinosaurs of Laramidia is
an exhibition that uses a diverse range of fossils
and scientific perspectives to bring the beautiful creatures
of Laramidia to life, first and foremost the dinosaurs.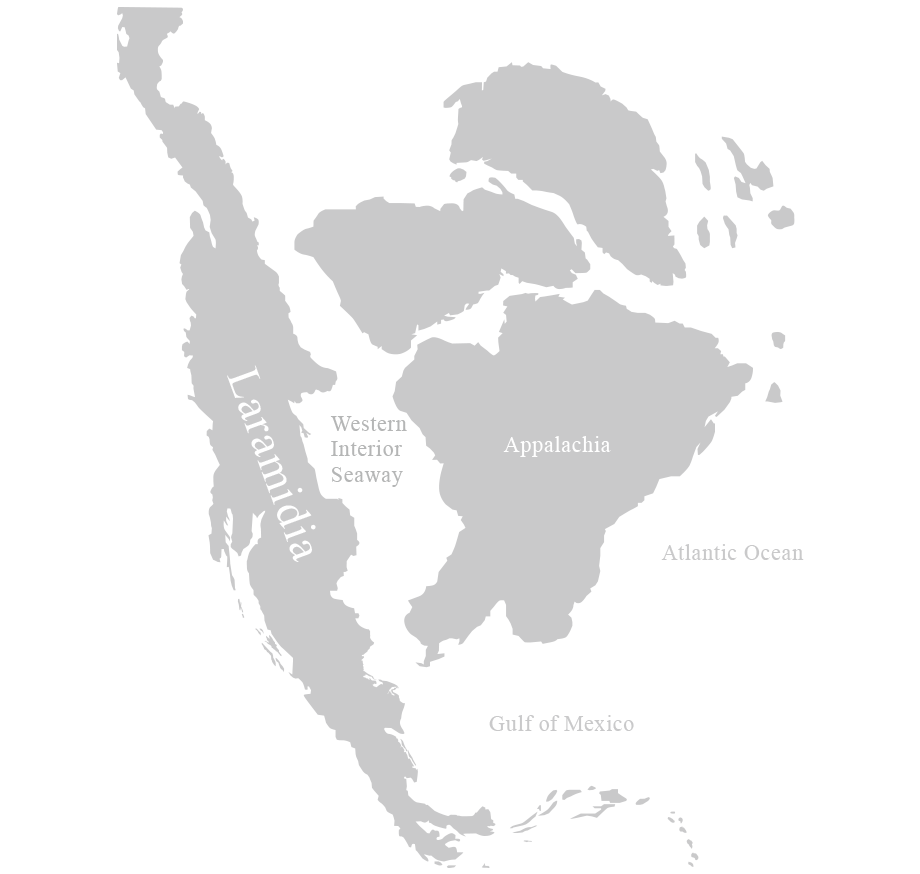 Prologue
The Ever-Changing Earth and Life
The dinosaurs. When, and how, did they emerge on our planet?
Earth is 4.5 billion years old, and it has gone through dramatic changes over the eons, with the environment and the life it supports impacting each other in turn.
In this prologue, we travel all the way from the birth of our planet to Laramidia, a continent formed during the late Cretaceous (aprrox. 100-66 MYA) that is the setting for our exhibition. Watch the movements of the continents and the evolution of life on three 200-inch screens, a total of 12 meters across, through a presentation that blends animated video with a digital representation of the Earth.
For precautions regarding the viewing of video content in this exhibit, click here.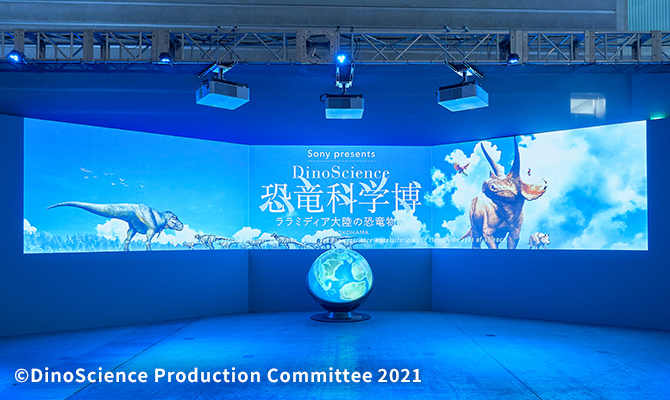 Discovery Lab
The Laramidia Continent Revealed through Science
The Discovery Lab takes a scientific look at Laramidia, the kingdom of the dinosaurs, across 10 themes. Climate, ecosystem, and surprising facts about these living, breathing creatures. Delve into our collection of rare specimens and materials.
Learn about famous dinosaurs like Triceratops, Edmontosaurus and Tyrannosaurus through Sony's Spatial Reality Display technology, which allows you to get a close look at detailed dino body movements reproduced in CG. These dinosaurs feel so alive you won't believe it.
Use of Spatial Reality Display limited to one person at a time.
Please note that you may not be able to experience it due to congestion or other reasons.
For safety reasons, three Spatial Reality Displays set up in the exhibition hall are not available for children under the age of 5. However, such age restriction doesn't apply to other facilities in this exhibition, so children under the age of 5 are still welcome to visit our exhibition.
Please click here for details.
Also, make sure to check out the Gorgosaurus skeleton, nicknamed Ruth.
She is an exceedingly rare specimen, the first dinosaur fossil in the world found with evidence of a brain tumor, as well as the scars of numerous painful fractures and wounds.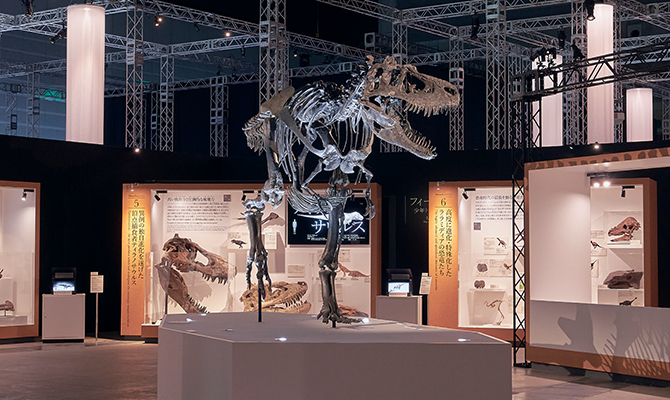 Laramidia Field Tour
The Adventure of a Juvenile Triceratops
A young Triceratops dashes off from the pack, and finds himself in a dense forest. Laramidia was fraught with dangers, and this special exhibit will take you on a grand adventure, introducing you to different creatures along the way. There are Crocodilia and Testudines, which still live on today, as well as Quetzalcoatlus, one of the largest flying animals ever; Struthiomimus, a real speed demon; Mosasaurus, an aquatic, carnivorous reptile that dominated marine ecosystems; and more. Skeletons of many different creatures that lived in the Late Cretaceous can be found on display.
At the entrance, you will enjoy a special spatial enhancement experience with Sony's 360 Reality Audio technology. Also, by that, you will have an immersive experience that makes you feel like going through a time journey in Cretaceous.
*Illustration Mr. Dinosaur ©Tanaka Masashi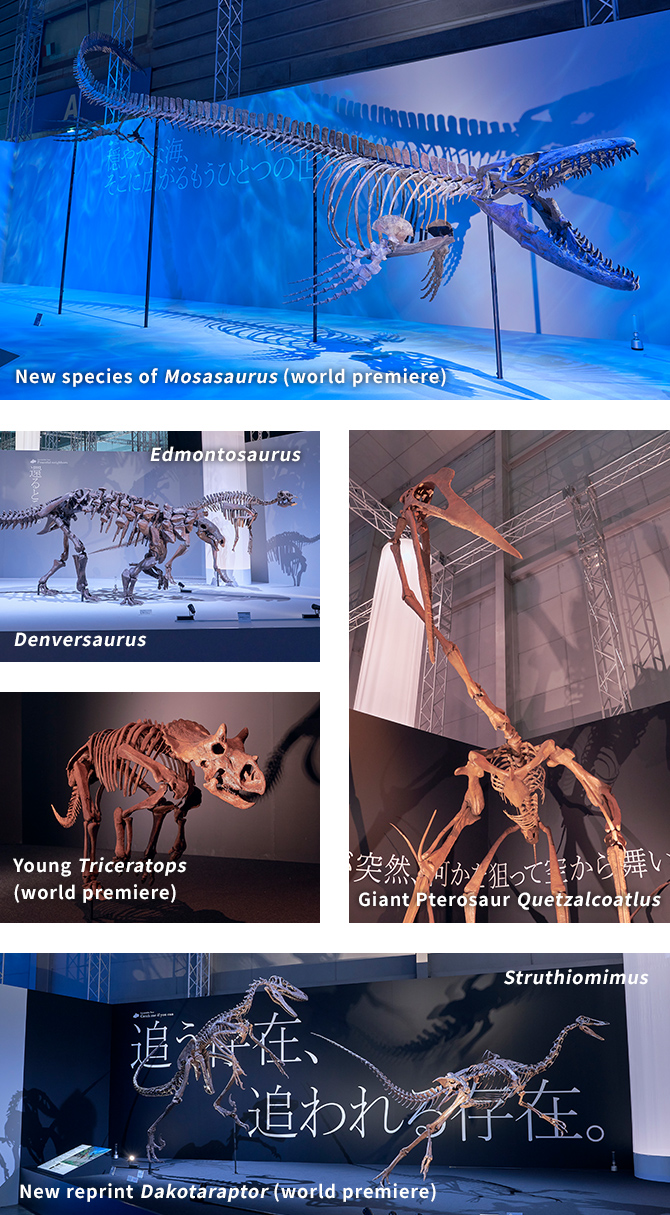 The Cretaceous Theater
The World Where Dinosaurs Live
This fully CG film, projected on a massive, 12m x 6.8m Sony Crystal LED screen, will sweep you back to the Cretaceous Period!
Featuring 7.1.2 surround sound, and Sony haptics technologies that add vibrations and wind along with the pictures, this theater gives you a thrilling taste of life in the era of the dinosaurs. New research has revealed facts about the shapes and textures of dinosaurs' bodies, how they moved, and even the plant life of the time, all of which was reflected in the film under the careful supervision of Mr. Dinosaur.
This amazingly lifelike presentation, featuring full CG video crafted all by the talented people assembled for this exhibition, will change how you see the dinosaurs forever.
In this exhibition, there is an area where the floor vibrates due to haptics technology (tactile presentation technology). In such areas where the floor vibrates, for safety reasons, children under the age of 6 and those wearing medical equipment, etc are restricted to experience due to usage restrictions. On the other hand, people with usage restrictions are available to watch the same content in specified areas without vibration effects.
Regarding usage restrictions, please click here for details.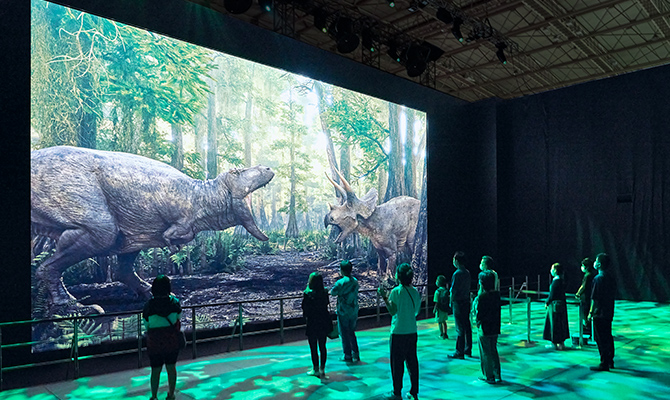 ©DinoScience Production Committee 2021

Special Exhibition:LANE & STAN
Lane the Triceratops is a miracle. Until now, you've only been able to see him at the Houston Museum of Natural Science. But here is the full Lane skeleton, in Japan for the first time!
Measuring 7 meters long and 3 meters tall, Lane is a unique and priceless specimen. An entire skeleton, almost entirely complete, and the first ever discovered with large pieces of skin intact. After 66 million years in the ground, Lane emerged in beautiful condition. Make sure to get a good look at him.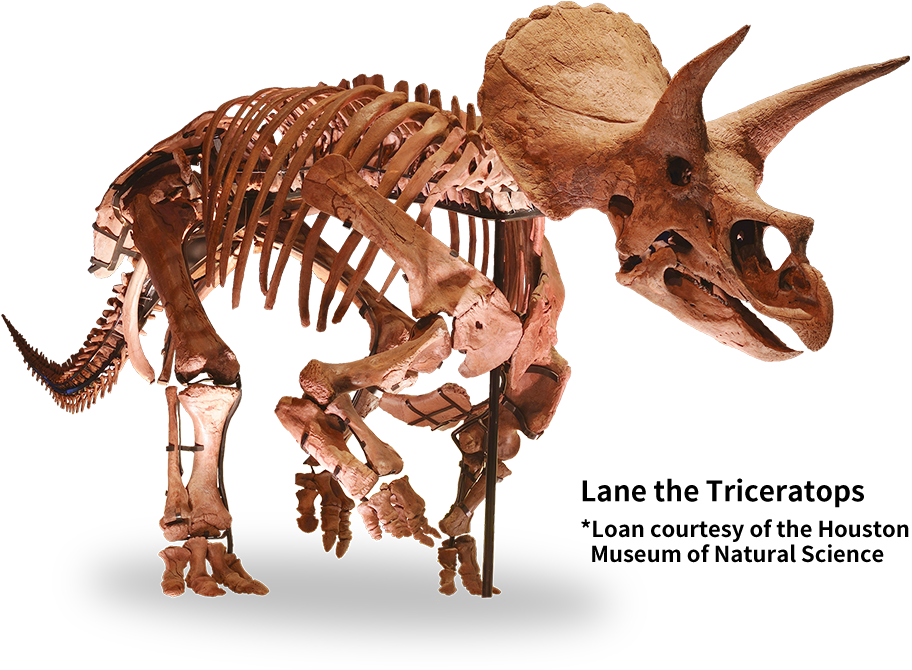 Facing off against Lane is the Tyrannosaurus skeleton known as Stan. The skeleton in this exhibition features a dynamic pose chosen and assembled by Mr. Dinosaur and the Black Hills Institute of Geological Sciences.
Using 3D modeling technology, they verified the effects of gravity, the position of each joint, and so on from every possible angle. The moment of the hunt, brought back to life in meticulous detail.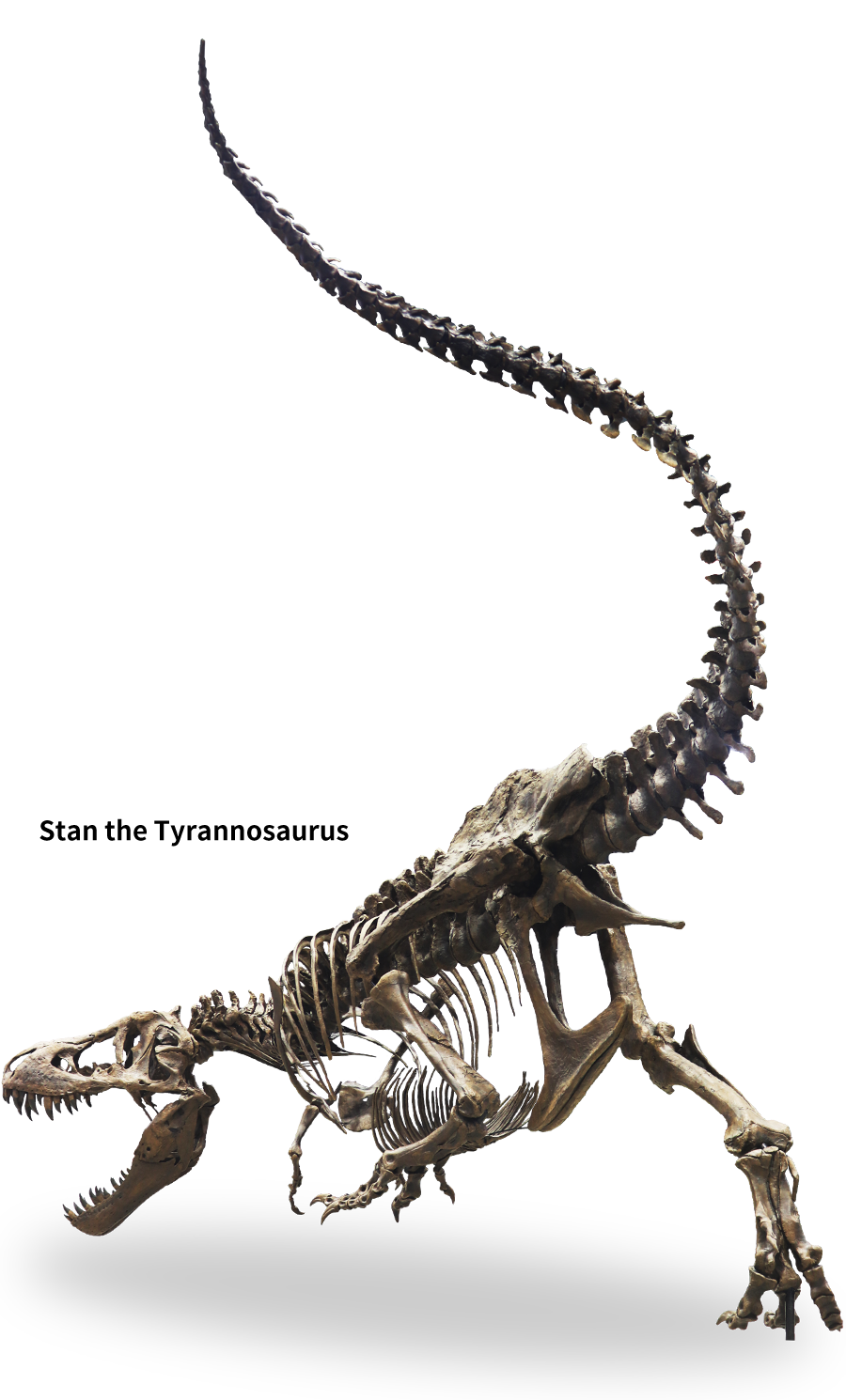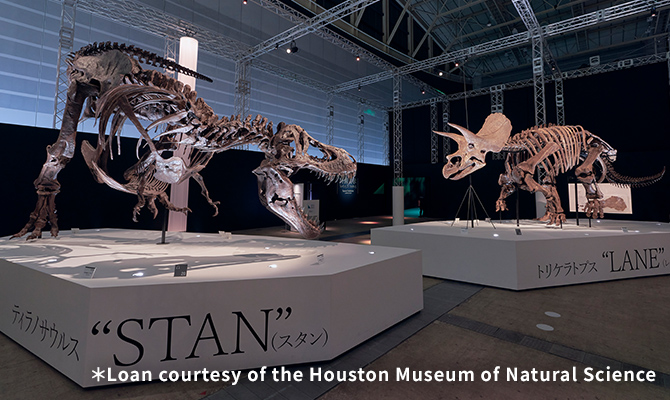 For safety reasons, a Spatial Reality Display set up in the special exhibition area is not available for children under the age of 5. However, such age restriction doesn't apply to other exhibition areas such as "Special Exhibition: LANE & STAN", so children under the age of 5 are still welcome to experience our exhibition.
Please click here for details.
NIGHT MUSEUM
During the exhibition, on Wednesday, Friday, Saturday, Holidays, we will hold a "Night Museum" that you can visit from 18:00 to 21:00.
In addition to making the lighting inside the venue darker than during the daytime, the zone of "Laramidia Filed Tour" will be decorated with green lighting reminiscent of the Laramidia forest.
And at some displays of skeletons, including Lane and Stan, it will be illuminated with colorful light effects.
You certainly can enjoy a different atmosphere from the daytime.
Also, from 8/4 (Wednesday) to 9/10 (Friday), on each Wednesday and Friday, we will deliver two special experimental programs titled "Miraculous glasses and Dinosaur movie by au 5G" "au 5G movie download" for you to enjoy in the zone of "Special Exhibition: LANE & STAN" limited to Night Museum.
For details of experimental programs, please click here to check.
Depending on the situation, programs may be held on days other than Wednesday and Friday.