PACIFICO YOKOHAMA(Exhibition Hall A)
ACCESS
NEWS
Summer Vacation Campaign held at the DinoScience Store in the venue will last until August 31st.
If you purchase the official catalog at the DinoScience Store in the venue, you will randomly receive an original postcard drawn by Mr. Dinosaur! In addition, if you expend more than 5,000 yen (tax included) per purchase at the DinoScience Store, you can participate in the "Summer Luck Trial !! Dinosaur Card Challenge". If you're lucky, you might have to chance to get the valuable dinosaur fossil excavated by the Black Hills Institute of Geological Research (BHI), which is only available here in Japan!! For more details, check our official Twitter or Instagram.

2021.8.16 The Campaign "Post your moments of Dinosaur Science" is held now
We will present the original dinosaur sticker to the first 1,000 people who posted their impressions of the visit and the photos taken in the venue on SNS with hashtags of #DinoScience #恐竜科学博.

* Please show the post to the staff at the exit of the venue.

* One person can participate only once.

* Ends as soon as it runs out

Due to a special event, no workshops will be available on August 17 (Tue).

Notice of COVID-19 infection
It was confirmed that a staff member working in the exhibition of the DinoScience tested positive for COVID-19 on August 12th.
The worker wore a mask and gloves during work and never took them off. And as a result of an investigation by the health center, it was determined that there were no close contacts with any visitors and workers. Also, before the result of the investigation came out, we deducted the PCR test with all workers that worked with the worker on the same day and everyone was tested negative.
Facilities in common areas have been disinfected thoroughly. We will continue to take thorough infection control measures to prevent the spread of new coronavirus infections.

The following are questions that customers at the exhibition often ask. Please check before your visit.

* Please check the designated date and time on your ticket before your visit.

* Weekday Tickets can be used at any time during the day they are good for.
(Depending on crowds, you may have to wait outside the entrance, or you may be unable to attend the exhibition if the maximum number of guests for that day has been reached.) Weekday Tickets will not be available on weekends, holidays and August 7-15.

* Admission and exchange for items with Premium Tickets are available on weekdays only. On weekends, holidays, and August 7-15, it is not available.

* Once purchased, tickets cannot be exchanged, cancelled, reissued or refunded.

* The video and interactive portions of the exhibition may be closed without notice. Please be aware that tickets will not be refunded in this event.

Exhibition catalog is now available on e-book! Each e-book stores will hold a special book fair until July 30th, featuring dinosaur books with a chance of winning "DinoScience" admission tickets and merchandise!

Just 9 days left! We're ready to pull back the curtain on DinoScience! Read our official press release here.

Online Tour details and tickets now available! Click here for the official press release.

We've teamed up with XR CHANNEL to bring massive dinosaurs to Minato Mirai, Yokohama! Starting June 25. Click here for details.

Sony present DinoScience The Dinosaurs of Laramidia opens Saturday, July 17 at Yokohama Pacifico! See official press release here.

Tickets go on sale at 10:00 a.m. today! Details here.

Kosaka Nao of Hinatazaka46 is our official DinoScience Ambassador! Read our interview with her here.


Lane the Tremendous Triceratops that remains in perfect appearance for 66 million years.
Lane is a miraculous specimen that is kept in the most complete skeleton of its kind ever discovered and even has preserved impressions of skin. Now, the whole skeleton of real and skin fossils are especially displayed in Japan for the first time.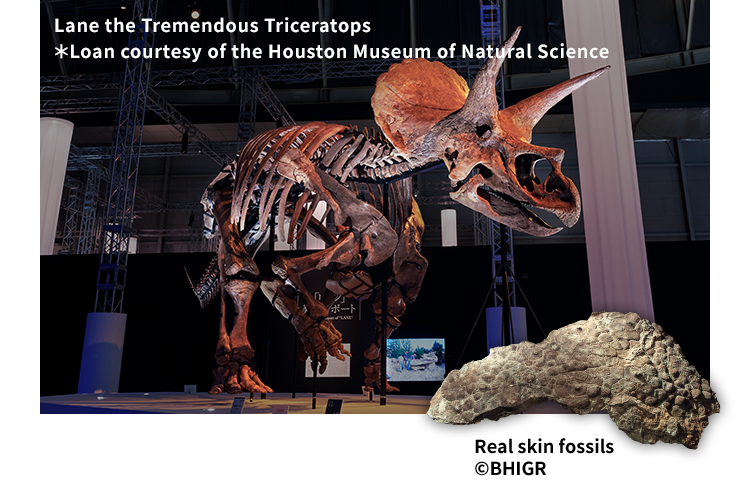 The best experience video approaching with overwhelming reality that no one ever experienced.
Flying in the sky with pterosaurs while receiving the wind with your whole body, jumping into a flock of thousands of dinosaurs, to the ancient forest where life-sized dinosaurs make a sound and approach. Featuring Sony's proud 12m x 6.8m Crystal LED display screen with surround sound and advanced haptics technologies, you will have an impressive video experience than ever before.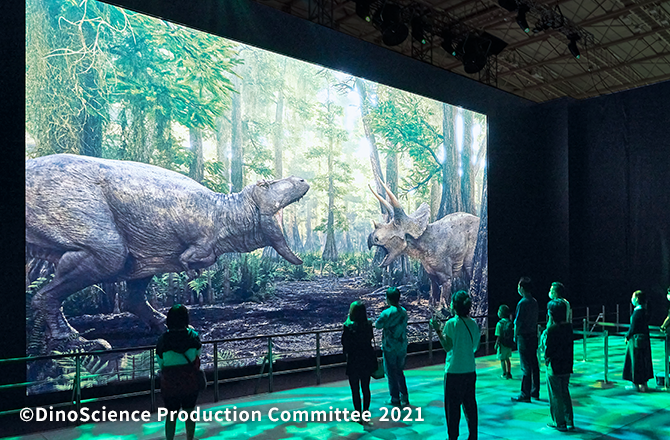 A brand-new dinosaur exhibition complied with fantastic productions and immersive stories.
Walk through the woods with a young Triceratops and meet one after another with Cretaceous inhabitants. A story-type exhibition that skillfully creates a space with sound and lighting invites you to the world where dinosaurs live.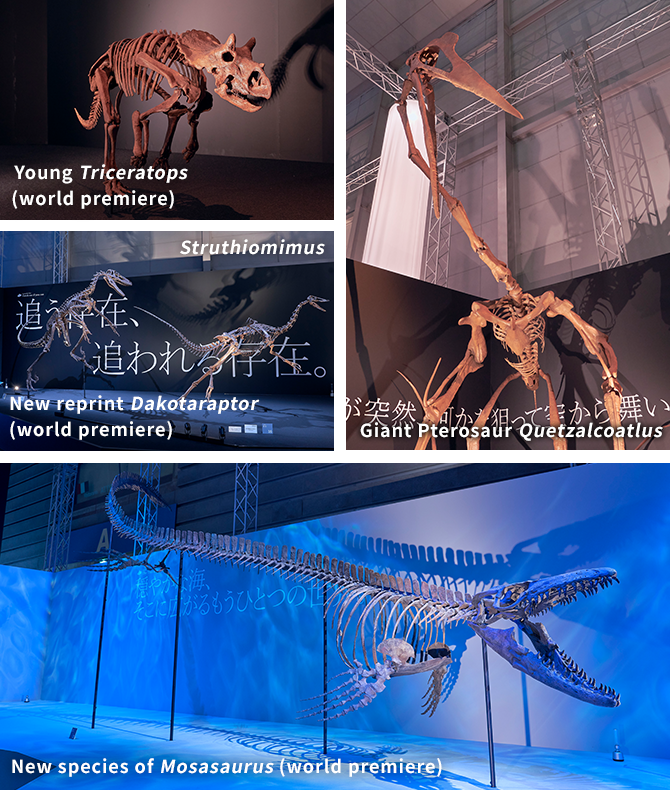 Dynamic and graceful skeletons are virtually alive.
Sprint, jump, and attack with all your might. Skeletons displayed in a vibrant way that overturns conventional wisdom. It makes you feel the lively breath of dinosaurs and the dynamism of living creatures.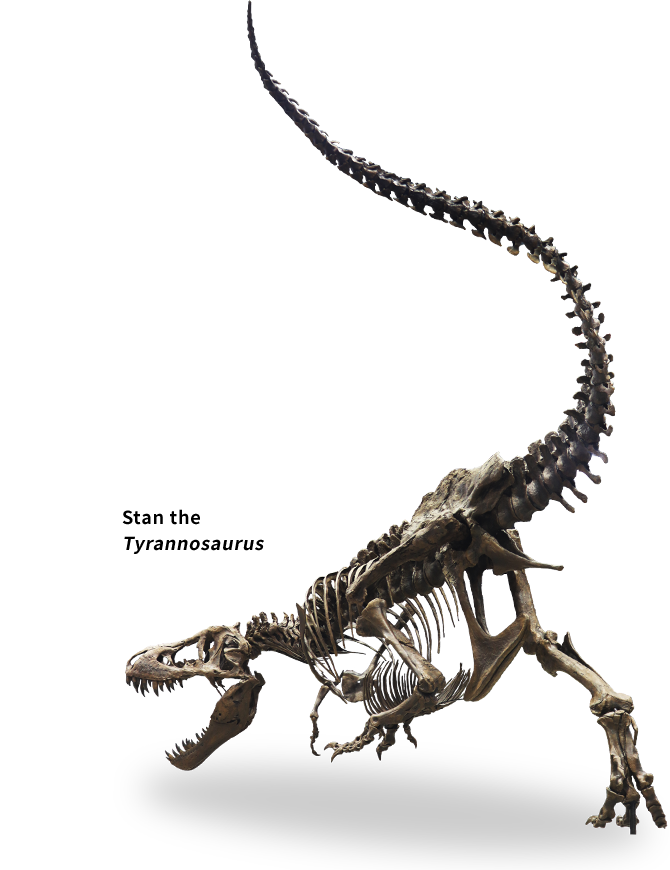 The world of dinosaurs drawn with the latest research and cutting-edge technology.
"Discovery Lab" unravels the mysteries of dinosaurs from various angles. Using the latest research results and technology, we will bring out the real image of the rich ecosystem and dinosaurs of the Laramidia continent.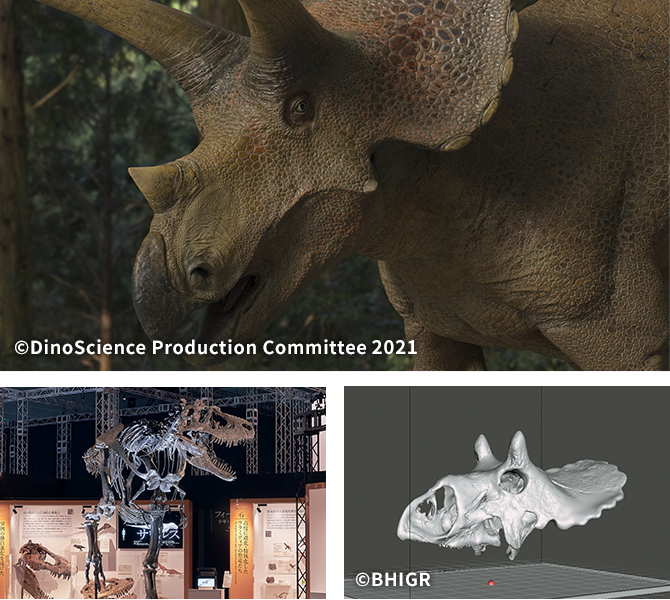 Audio Guides
[ Rental fee ¥ 800 (tax included) / time, total recording time about 40 minutes ]
There are 3 types of audio guides to choose from! There are lots of stories that can only be heard with an audio guide. Each navigator has a different narrative and discovers a lot.
Mr. Dinosaur
a Little Boy version
[ Recommended for children! ]
In this funny audio guide, a little boy played by popular voice actor Hanae Natsuki goes on a tour with Mr. Dinosaur, the curator of the exhibition. Together, they'll learn all about dinosaurs—how they lived, and what makes them so amazing. Listen along with the whole family!
Mr. Dinosaur

(Tanaka Masashi)
Science communicator. Pursued wide-ranging scientific studies, primarily paleontology, at the University of Alberta, a hub for dinosaur research. Involved in a wide range of dinosaur-related activities, including curating museum exhibits, giving talks and interactive workshops, creating illustrations, supervising design of robots and models, writing, translating.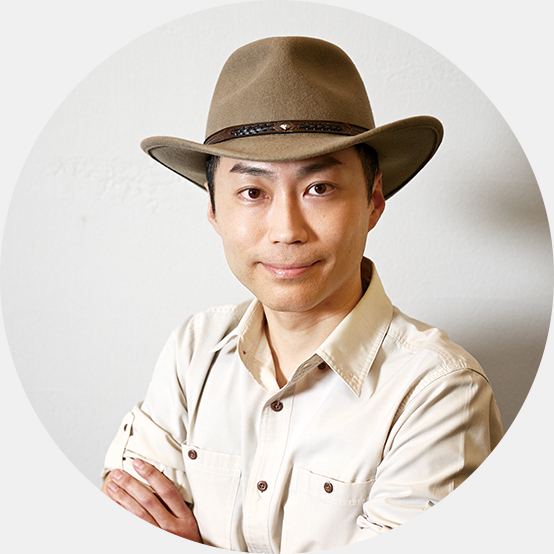 Hanae Natsuki
Born in Kanagawa Prefecture. Voice actor. Mainly known for his work in animated TV programs: Tanjiro Kamado in Demon Slayer: Kimetsu no Yaiba, Ken Kaneki in Tokyo Ghoul, Odokawa in Odd Taxi, Falco Grice in Attack on Titan, Pity-Kun in Gloomy the Naughty Grizzly, and more.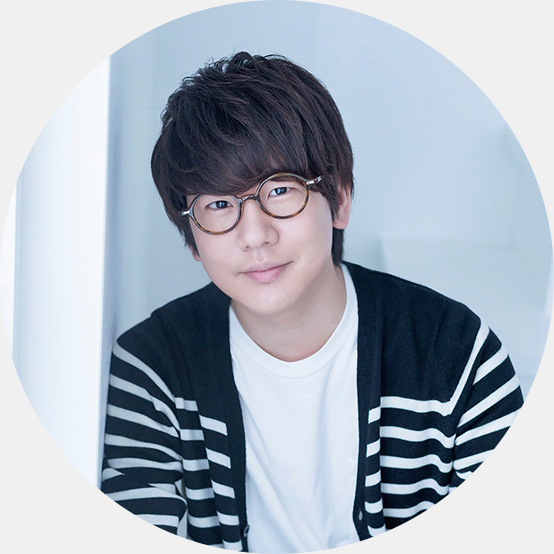 Kosaka Nao version
In this audio guide, explore the appeal of dinosaurs with Kosaka Nao, the official DinoScience Ambassador. Kosaka is a super dinosaur-lover, and together you'll learn the story of the ancient continent of Laramidia.
Kosaka Nao
Second generation member of Hinatazaka46. Since her debut in the single "Kyun," has been a lead performer in four straight Hinatazaka46 songs, and performed the past two years in NHK's Kohaku Uta Gassen. A central member of Hinatazaka46.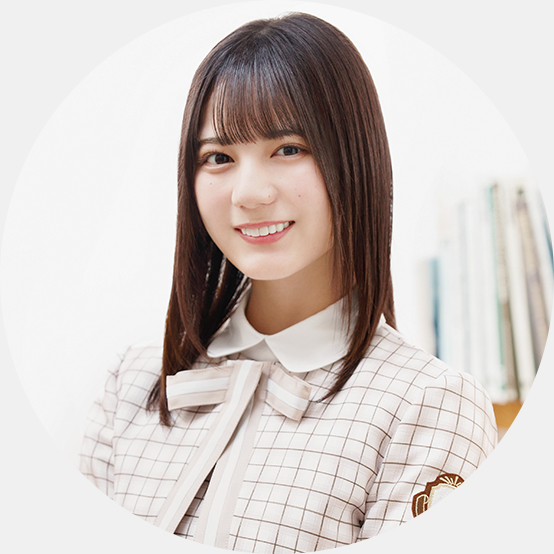 Documentary-style
version
In this audio guide, the soothing tone of voice actor Morikawa Toshiyuki brings you into the world of the dinosaurs. Full of detailed information, great for adults.
Morikawa Toshiyuki
Head of the talent agency Axl One & the Axl Zero Training Center. Has provided the dubbing for numerous Hollywood stars, including Tom Cruise and Keanu Reeves. In the animation world, his famous voice characters known as Ubuyashiki Kagaya in Demon Slayer: Kimetsu no Yaiba and Ri Boku in Kingdom. Also, he is an experienced, in-demand narrator.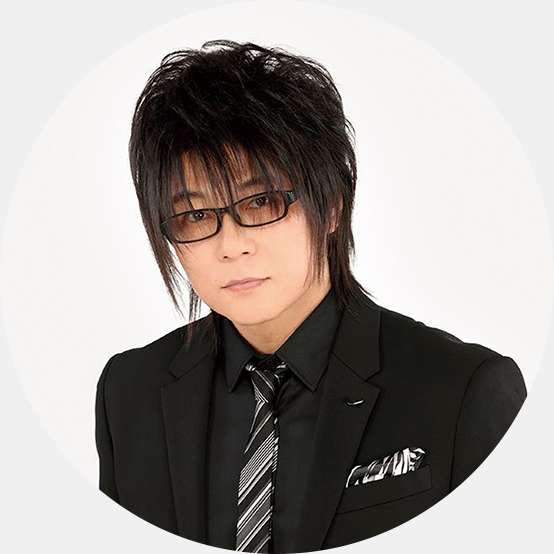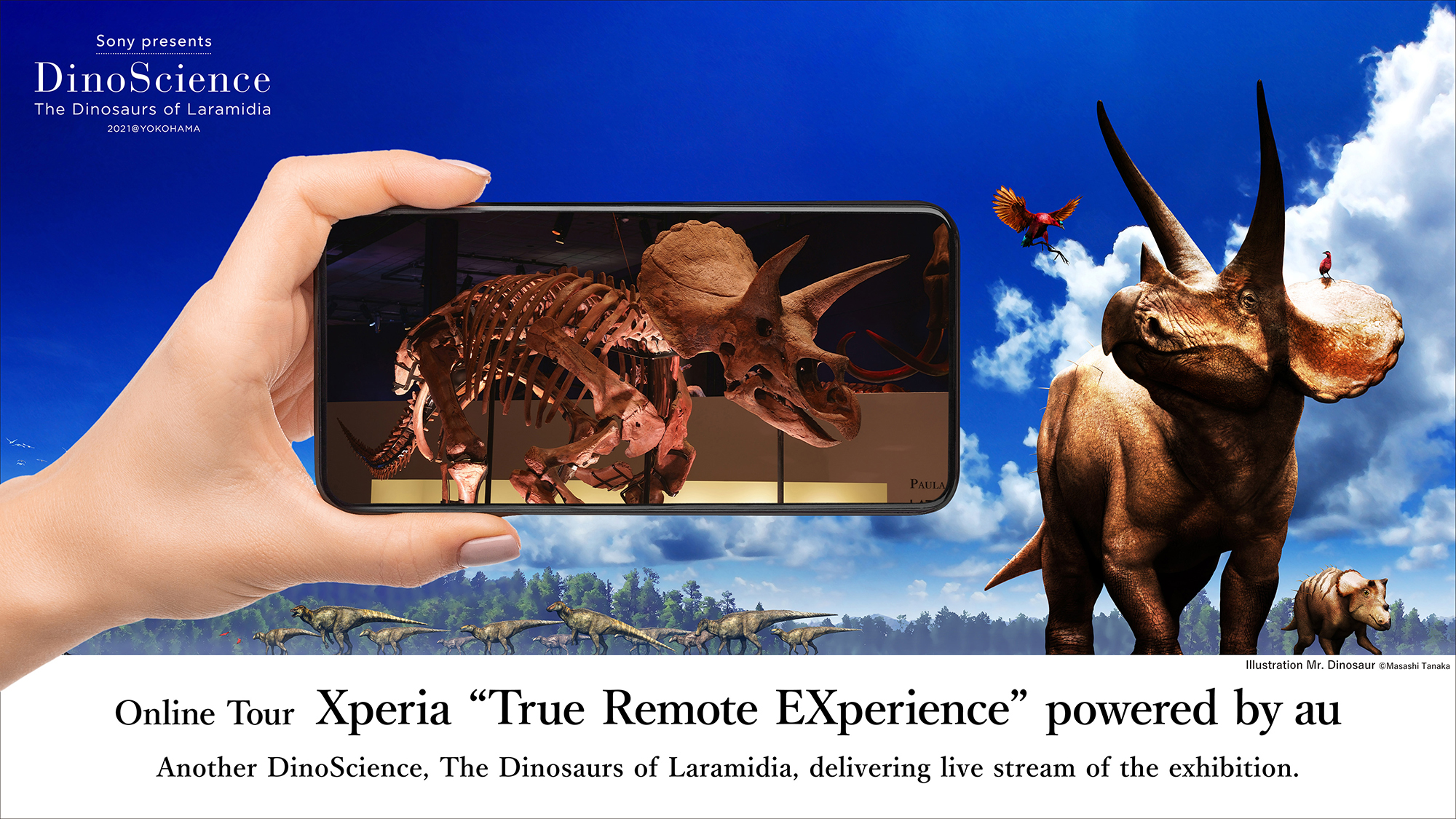 In addition to the amazing experiences you can have at the actual exhibition, we have also created an online tour with some exclusive content, including commentary by Tanaka Masashi. Get ready for an emotional, eye-opening journey, done in a way you've never seen before.

Next-gen AR app utilizing KDDI Corporation's Visual Position Service (VPS) technology
DinoScience x XR CHANNEL
We've teamed up with XR CHANNEL—an app that uses Visual Positioning Service (VPS) urban mapping technology to create AR displays in cityscapes—to make massive dinosaurs appear in Minato Mirai. This is a new type of immersive experience that brings dinosaurs to life in our world, our city, through the power of AR.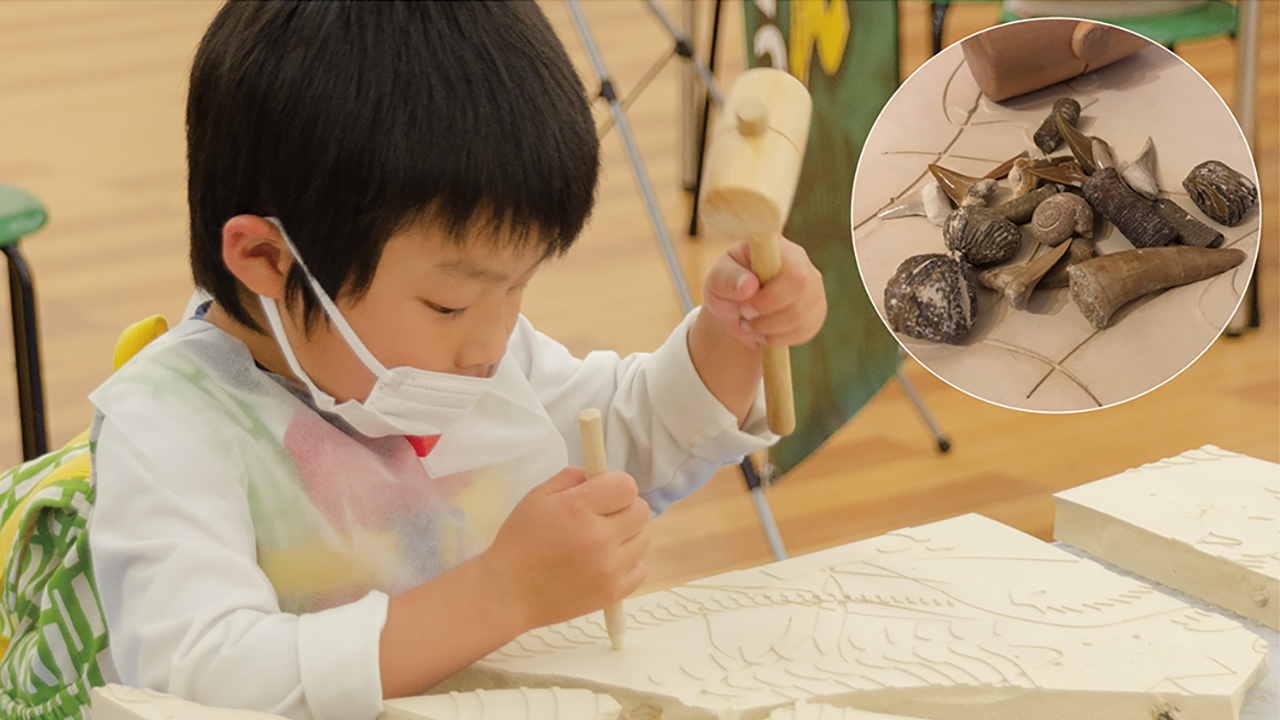 We run programs that offer lots of fun for both kids and adults. The interactive activities include a hunt for real fossils that you can take home with you, and a crafts session where you can create your own original dinosaur items. This is a great way to make your visit to us even more special!
*Due to a special event, no workshops will be available on August 17 (Tue).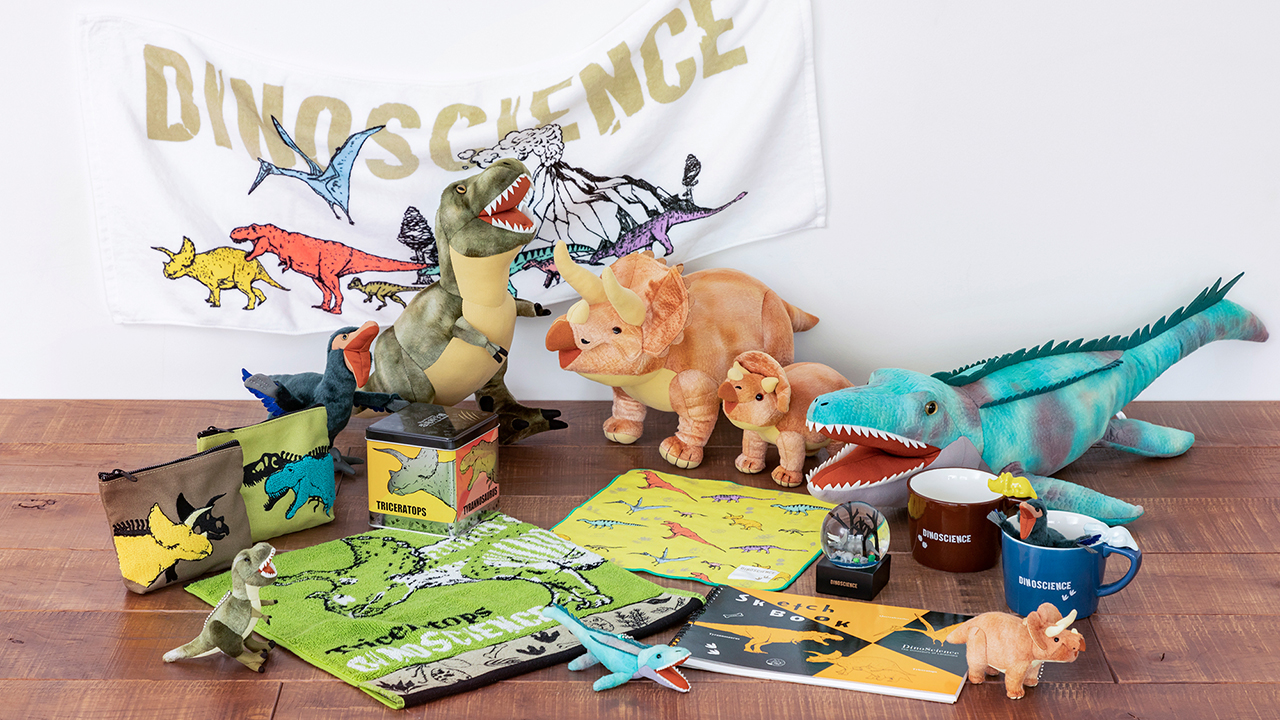 We have more than 150 original DinoScience items, some of which you can find only here at the exhibition hall, including limited-edition creative collaborations with Peanuts and Hinatazaka46's Kosaka Nao, our Official DinoScience Ambassador, as well as exhibition books and catalogs, T-shirts, towels, stuffed animals, and much more.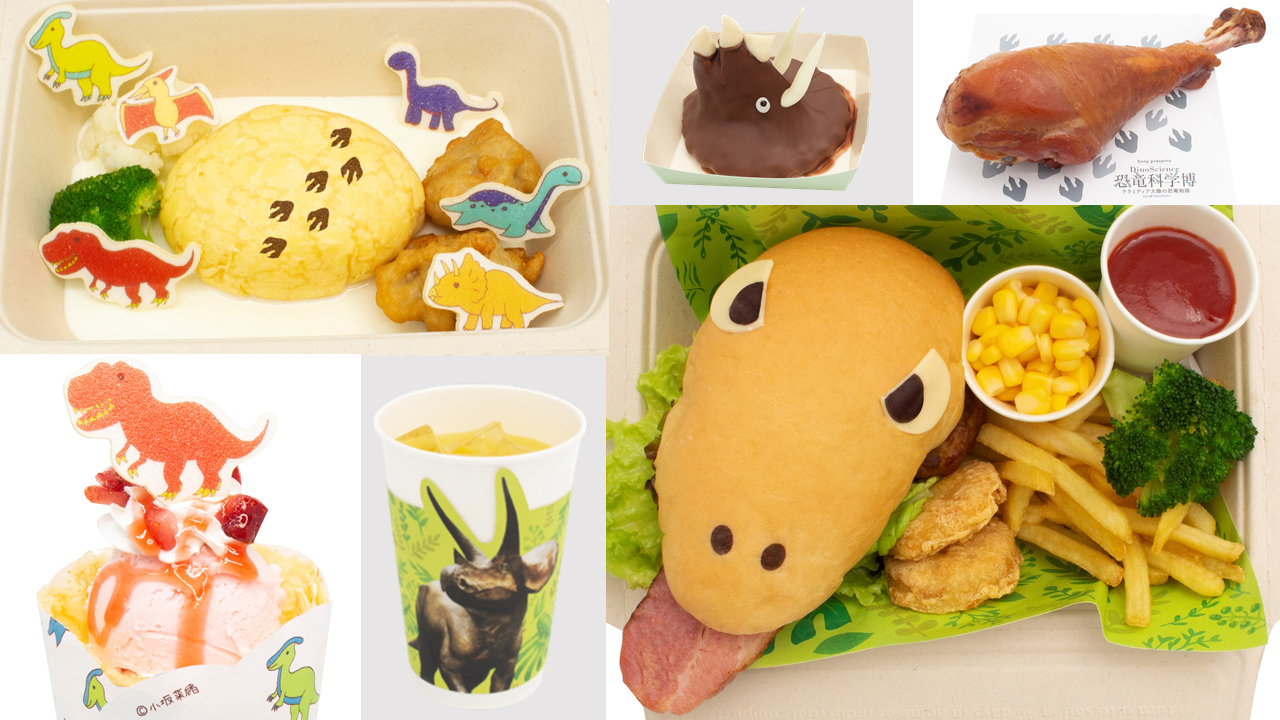 We have a full menu of food and snacks with a dinosaur theme, including some sweet treats that even grown-ups will love. We also have some special menu items inspired by dinosaur art done in collaboration with Hinatazaka46's Nao Kosaka, our DinoScience Ambassador.

This exhibition would not be possible without the
Black Hills Institute of Geological Research (BHI) and
its world-class expertise in the excavation, research and
preparation of dinosaur fossils

The company was founded by paleontologist Peter Larson in 1974 and incorporated as Black Hills Institute of Geological Research in 1979, in Hill City, South Dakota, USA. It specializes in the excavation, research and collection of fossils and mineral samples. BHI is known for excavating Sue, one of the largest and most complete T. rex specimens ever discovered, as well as Lane the Triceratops and Stan the T. rex featured in our exhibition. The institute has a long track record of offering technical and curatorial expertise to museums and research labs around the world, notably the Smithsonian.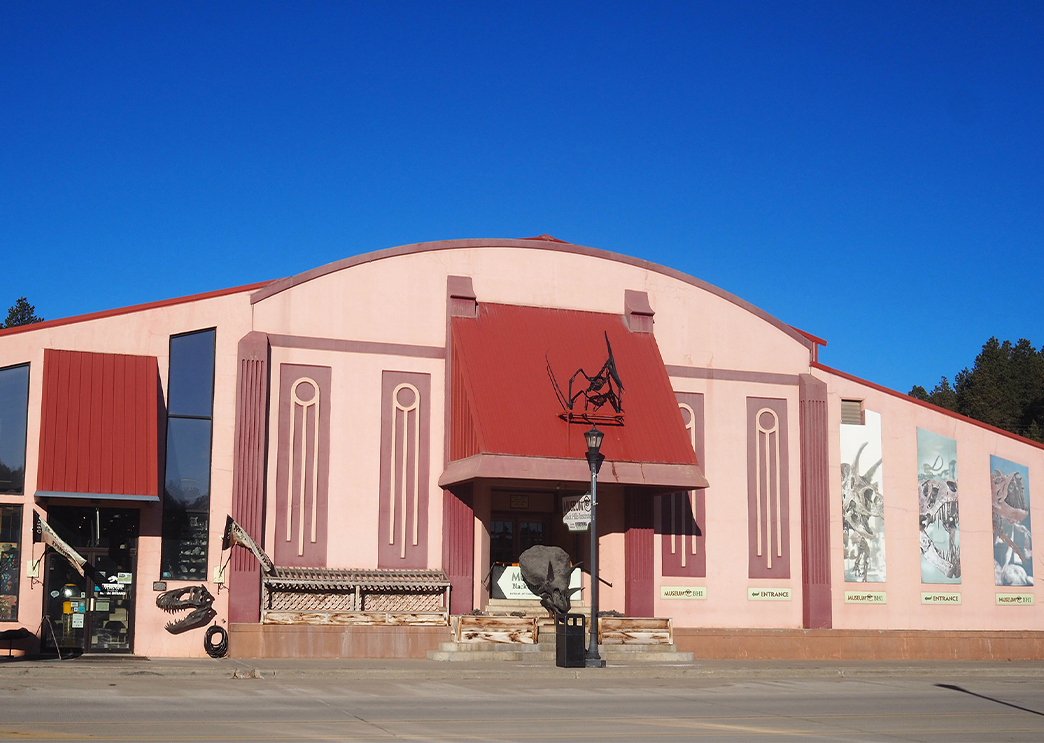 The Houston Museum of Natural Science,
one of the most popular museums in the US,
generously agreed to loan us Lane the Triceratops,
an incredible specimen

The Houston Museum of Natural Science, established in 1909 by the Houston Museum and Scientific Society, is known for its forward-thinking philosophy and unique science education programs. The vast museum complex features a central museum building with four floors full of natural science exhibits. A major highlight is the largest dinosaur hall in the United States, which houses a amazing number of fossils. Lane the Triceratops has not left the HMNS since it arrived there after its excavation...until now. We have Lane on loan from the HMNS and in Japan for the first time as part of our exhibition.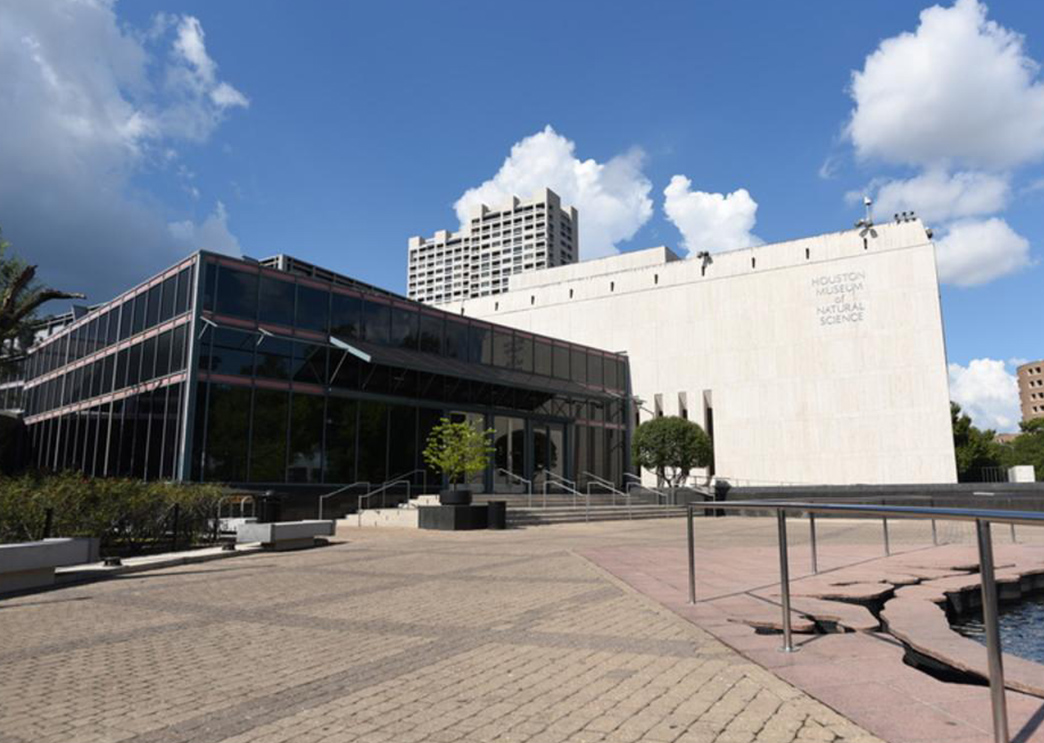 Page Top